A quick look at the QuantLib 1.15 release
Hello everybody.
Last week I've released QuantLib 1.15. As usual, here's a quick look at some statistics. (The release is available from the QuantLib site if you still haven't tried it out.)
The previous release was at the beginning of October, so this one took between four and five months, which has been about the average in the past couple of years. It includes 170 commits in 32 pull requests, listed here; compared with previous releases, a bit on the low side.
The number of contributors was 13 (as usual, not including all the people that reported bugs and suggested improvements; thanks to them, too) of which 7 were new contributors.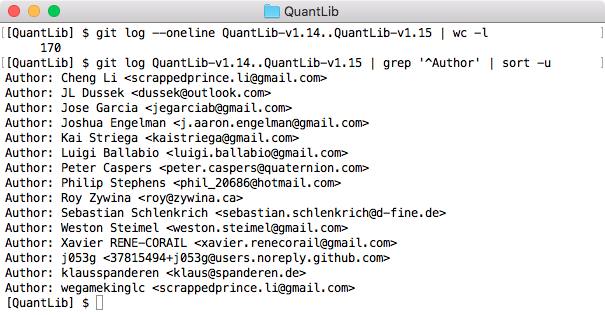 Speaking of which, I realized that I always saw new contributors for each release but I never actually counted them, so I went back into the git logs and did it. Here are the results: a nice stream of new contributors for each release.
You can read more about QuantLib 1.15 in the release notes.
As for QuantLib-SWIG, it didn't get a lot of love: this release includes a meager 3 pull requests.
And with this, we're off towards release 1.16. As always, I'll be happy to receive your pull requests for either the core C++ library or the SWIG language wrappers.
Follow me on Twitter if you want to be notified of new posts, or subscribe via RSS: the buttons for that are in the footer. Also, I'm available for training, both online and (when possible) on-site: visit my Training page for more information.