A quick look at the QuantLib 1.16 release
Welcome back.
Here is a quick look at some statistics for QuantLib 1.16, released at the beginning of this week.
And my oh my, my last post was a similar look at QuantLib 1.15, back in February. What can I say? Priorities.
The blog wasn't the only thing to take a back seat these months, since this release (available from the QuantLib site, by the way) took six months—a bit longer than usual. It includes 112 commits in 34 pull requests from 11 contributors, of which 2 were new (as far as I can see from the logs). The release notes have some more details on the contents.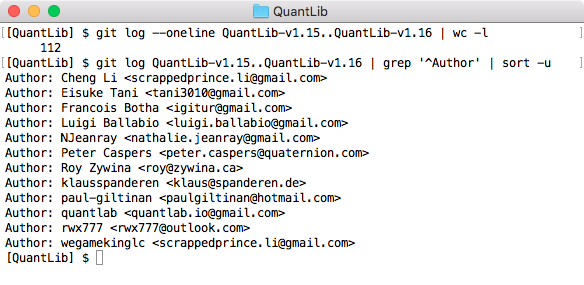 The corresponding release of QuantLib-SWIG contains 135 commits in 18 pull requests from 5 contributors.

The highlight of this release is a complete reworking of the SWIG interfaces (which, by the way, renders completely obsolete the post I wrote about them some time ago). A special thank you goes to Matthias Lungwitz for the help he gave me. This doesn't have an immediate effect on the wrappers, which keep working as before, but will make it a lot easier to export features from the C++ library which were so far unavailable from Python or any of the other languages to which we export code. I hope to see their functionality expand in the near future.
And by the way, if your team needs to get up to speed with either the Python wrappers or the C++ library, I can help with that.
I'll see you next time, whenever that is. If you want to be notified of new posts, follow me on Twitter or subscribe via RSS or email: the buttons for that are in the footer.