A quick look at the QuantLib 1.13 release
Greetings.
In this short post, a few statistics for the latest QuantLib release: version 1.13, released May 24th. You can get it from the QuantLib site. Before going into that, though, a quick PSA: the excellent Jacob Bettany from MoneyScience is setting up our next QuantLib course in London on June 18th-20th, and if you're interested it would be a great help if he knew it sooner rather than later. Information at https://bit.ly/quantlib2018. Thanks.
QuantLib 1.13 comes slightly less than four months after 1.12, with a bug-fix release 1.12.1 in between. Not bad, compared to our track record. It contains 42 pull requests, about 20% less than last release (click here for the full list), and is the work of 13 contributors for 182 commits. It's half as many people as last time, but the number of pull requests and commits didn't suffer a lot. We'll see how we do next time. As usual, this doesn't include all the people that reported bugs and suggested improvements; kudos to them, too.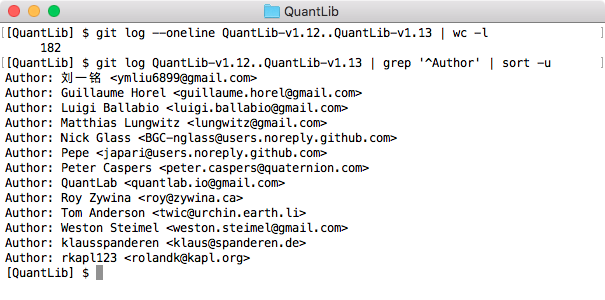 QuantLib-SWIG got some love, too: 5 contributors submitted 30 commits for a total of 9 pull requests.

As I mentioned last time, those contributors might include you in next release. If you want to have a go at some unresolved issue, they're listed on GitHub for both QuantLib and QuantLib-SWIG. I've marked a few easy ones if you want to feel the water, as well as others that I can't reproduce because I don't have the relevant environment or tools. I look forward to hearing from you.
Follow me on Twitter or LinkedIn if you want to be notified of new posts, or subscribe via RSS: the buttons for that are in the footer. Also, I'm available for training, both online and (when possible) on-site: visit my Training page for more information.