A quick look at the QuantLib 1.8 release
Hello everybody.
One week ago, I released QuantLib 1.8. (You don't have it yet? You can download it here.) This post is a quick look at the release.
It comes six months after release 1.7, which is not bad but is a bit longer than previous releases. In my defense, the release was practically ready by the end of April; but I decided to wait for the releases of Ubuntu 16.04 and Boost 1.61 in order to check that the release worked with them and thus avoid having to put out a 1.8.1 shortly after this one.
The release contains 46 between issues and pull requests; you can peruse them on GitHub. The git logs show 342 commits by 17 people (once you filter out a few duplicates) which is a bit more than last release.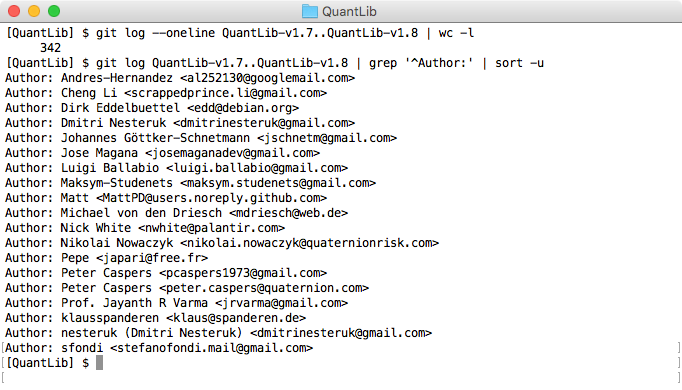 As usual, I'm grateful to all the contributors, as well as to anybody who contributed bug reports or patches; I tried to acknowledge them all in the list of change for the release. Apologies if I missed anyone.
The QuantLib-SWIG modules got some love, too: the 1.8 release contains 33 commits by 8 people, spanning 9 issues and pull requests.

That's all for this post. See you soon, and don't forget to have a look at my next course.
Follow me on Twitter if you want to be notified of new posts, or add me to your Google+ circles, or subscribe via RSS: the buttons for that are in the footer. Also, make sure to check my Training page.