Implementing QuantLib available from Leanpub
Hello everybody.
Big news: Implementing QuantLib is available on Leanpub.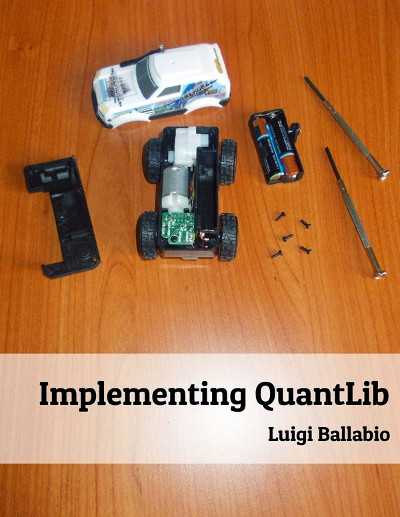 For those of you that are not familiar with Leanpub, it is a publishing platform for ebooks that specializes in lean publishing; that is, publishing books which are still in progress and can thus benefit from reader feedback while they're still being completed. When you buy a book in progress, you get the current version now and you'll get all further updates for free.
Long story short: if you are interested in an Epub or Mobi version of my book, go get it (you can pay as much as you want). The drafts of the PDF version remain available for free on this site.
Of course, I'll be very grateful for all feedback (that's the whole point…) I'm particularly curious to know it the ebook looks ok on different devices, and if code listings wrap correctly—meaning that they shouldn't wrap; it they do, try decreasing the font size.
All in all, I think this will make for an interesting experiment. If it goes well, The QuantLib Notebooks will be next.
Ok, that's all for this post. I'll be back soon with some news on my next course. Oh, and the March sale at QuantsHub continues.
Follow me on Twitter if you want to be notified of new posts, or add me to your circles, or subscribe via RSS: the buttons for that are in the footer. Also, make sure to check my Training page.